Faculty & Staff Giving
Strengthening Denison, Together
As a Denison employee, you are what makes our college the supportive and engaging a community that others try to replicate. Your contributions — wherever, however, you make a difference — are what unlock our students' potential.
Support the outstanding Denison experience you help create at work by making a gift to the Annual Fund! Your gift of any size, when joined with others from faculty, staff, alumni, and friends has a profound impact. You can see it for yourself in the:
exceptional students, you interact with
unique artistic performances and guest speakers
exciting Big Red sports
the inspiring, picturesque campus
and so much more!
Denison makes it easy to give — with options to schedule recurring payroll deductions or one-time gifts. Celebrate your workplace and Denison's students by making your Annual Fund gift today!
Mail-in Payroll Deduction or Gift
---
Testimonials:
"I'm a Denison Employee—and I Support the Annual Fund"
Cookie Sunkle, Retired Assistant to the Director of the Lisska Center for Scholarly Engagement
Years at Denison: 30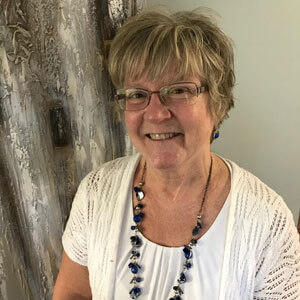 What I like best about my job is getting to know the students. They keep me young. It never ceases to amaze me how bright they are and tune in to the world and things going on around them. I call them "sponges"; they just want to soak up everything they can. And so many of them do. Most of the students I come across are really involved in different things on campus. They're good students, they're good people, and they give me faith in humanity and the world they will take over someday.
Dr. Lisska hired me, and he's still here teaching at age 78. I've had wonderful directors who have let me make this job what it is. They've had great faith in me to take the job and run with it, to guide myself through it and come up with new ways of doing things. And the faculty here are truly an amazing group; they love the students and go above and beyond what's asked of them in their contract.
So much of the work that we do here is dependent on other people giving to Denison. All of our 120 scholars we support in the summer — students who stay here and do research for ten weeks — are funded by those who have chosen to give to Denison. We couldn't do it without them. I think it's important to give to Denison too. I believe in the place and I want to give back. This is my dream job. I can't imagine a better way to have spent the last 30 years.
Liz Barringer-Smith, Academic Administrative Assistant, Languages
Years at Denison: 11

I support a big department spanning seven languages and 29 faculty who typically teach between 65-70 courses per semester. It's a very, very busy place, but not in a bad way. I don't know what I would do for the rest of the time if it wasn't crazy.
Some of the students call me Mama Liz. It's like you're their mom but they tell you stuff that they won't tell their mom or their faculty members — not necessarily bad stuff, but their fears about the future, wondering what they're going to do with the rest of their lives, things like that. Talking with them is the best part of my day. I really love them a lot.
My daughter Zoe is a part of the Class of 2022. We drove around the country looking at a number of schools and finally she asked me, "Would you be upset if I applied to Denison for early admission?" She was a first grader when I started here, and she's grown up on campus. Often she's in my office three times a day — and now she brings friends!
I give to the Annual Fund because we know how great our students are; why wouldn't we help them become these amazing people? It's not hard to do through payroll deduction, and it may not seem like a lot of money, but every little bit counts. And then when our students become famous, they'll remember us, right? I always tell them, "When you become famous, come see me." They invite me to their weddings, send me pictures when they get engaged or have babies. It's so cool.
Jennifer Grube Vestal, Associate Dean of Students, Director of the Academic Resource Center
Years at Denison: 19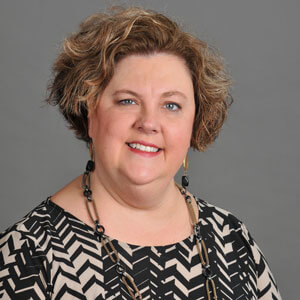 When I think about giving to the Annual Fund, I think about the unrestricted funds that help Denison live out its mission in very subtle ways. Sometimes the students walking through my office are embarrassed about their academic performance, and the Annual Fund provides things that mitigate their uneasiness — like putting candy in the candy bowl to make them feel more at home, making sure we have enough handouts, having tchotchkes on hand like post-it note packs. Those are the kinds of things the Annual Fund makes possible.
I give through payroll deduction, and it's not a lot — but what matters is not the totality of the dollar amount you give, but your commitment. Even in small tokens, those gifts build up and show that the people who work here care about this place and our students.
We have so many perks from working here that don't have a monetary value but are significant, like the amazing Vail Series and guest speakers — things that others have made possible by investing in Denison and that I benefit from as an employee. I get to attend student performances and most sporting events for free; why wouldn't I be giving back in some way?
Dyan Couden, Academic Administrative Assistant, Art History & Visual Culture / Studio Art
Years at Denison: 11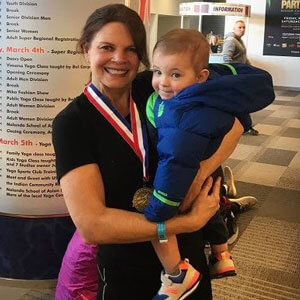 I love working with the students. I understand their struggles and how time-consuming, all encompassing, and expensive artwork is — having been an art student myself a long time ago. I get along with the students really well. You can kind of be a mom away from home for them when you're in my position.
Among other things, I get to chaperone student trips. Every year I go on the seniors' New York trip for four days, and I've been on several trips to Chicago and Cincinnati. I also take a group of first-year students for a summer trip to places like Philadelphia or Columbus. It's a lot of responsibility to go on those trips, but also a lot of fun.
The faculty are wonderful, too. We're kind of a small family here. The studio art faculty are all very talented, successful artists in their own right. And the art historians are such intelligent people and beautiful writers.
My husband (Alex Couden, an electrician for the physical plant) and I both donate to the Annual Fund. We appreciate Denison and the mission of the college and like to support the students in any way we can.
---
Questions?